Iowa PBS announces Iconic Iowa initiative showcasing the state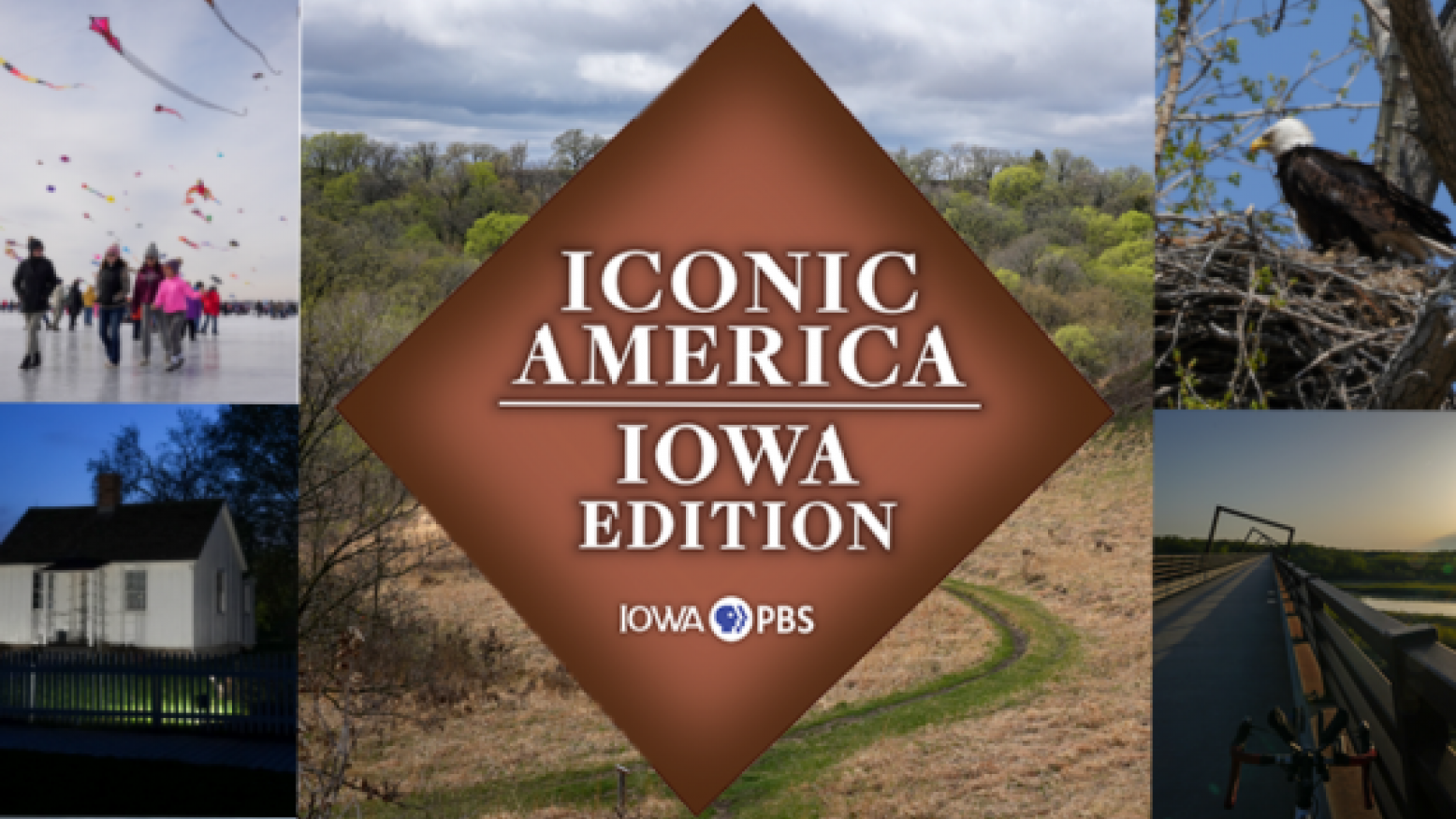 Join Iowa PBS this summer for Iconic Iowa, our local initiative connected to the new series Iconic America: Our Symbols and Stories With David Rubenstein. This national program examines the history of America through some of its most iconic symbols, objects and places, diving deep into each symbol's history and how its meaning has changed over time. From Fenway Park and the Hollywood Sign to the bald eagle and the Statue of Liberty, these seemingly familiar items have deep, significant and often surprising origins, with meanings connecting everyone to America's past. There are many ways for Iowans to interact and engage with us as we highlight our great state this spring and summer, while diving into our own history.
To launch this project, a traveling photo exhibit featuring work from talented Iowa PBS photographers will travel around the state. The exhibit will include Iowa imagery, sentimental symbols and local landmarks. In July, you'll find our exhibit in Des Moines, Oskaloosa and Burlington. Follow the exhibit to Dubuque, Waverly, Fort Dodge and Red Oak in August. The tour will wrap up in Sioux City the first week of September. Iowans are welcome to visit the exhibit throughout the summer, and a detailed list of locations and dates can be found at iowapbs.org/iconiciowa.
In each of the photo exhibit communities, there will also be a one-night reception where visitors can enjoy refreshments, conversation and giveaways. Individuals are encouraged to submit their iconic Iowa photo at iowapbs.org/iconicphoto to be featured alongside our exhibit. At the reception closest to your home, your image may be displayed and attendees will vote for their favorite picture. An Amazon Fire tablet provided by Friends of Iowa PBS will be given to the person with the top-voted photo at each event.
"We are thrilled to showcase the beauty of our great state with this traveling photo exhibit," said Iowa PBS Engagement Manager Caryline Clark. "We hope to meet many of you along the way this summer as we bring Iowans together."
A trivia night hosted in collaboration with the State Historical Society of Iowa and Travel Iowa will also take place as part of this summer campaign. On July 11 from 5:30 p.m. to 7:30 p.m. at Big Grove Brewery & Taproom in Des Moines, teams will test their knowledge of famous landmarks and icons from the state and nation. This trivia event is free and pre-registration is required. Teams can register at iowapbs.org/events.
Iowans can also join the conversation online, where we'll be showcasing Iowa icons and having discussions around what these symbols mean to folks throughout the state. Photos submitted to be included in the traveling exhibit will also be shared online and on-air.
Plans for this robust engagement initiative were funded in part by a grant from WETA. WETA is the second-largest producing station for public television, with news and public affairs programs including PBS NewsHour, films by Ken Burns, Finding Your Roots and other special documentaries.
To submit your iconic Iowa photo, find a list of locations of our traveling exhibit and receptions, and to learn more, visit iowapbs.org/iconiciowa.