Celebrate National Librarian Day with Local Librarians
To celebrate National Librarian Day we wanted to highlight some of the amazing librarians right here in one of our Iowa communities. Meet Janee Jackson-Doering and Maddie Bassman, two Des Moines Public Library librarians. Do you know the staff at your local library
Janee Jackson-Doering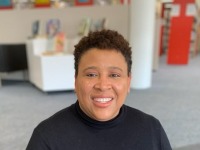 How did you become a librarian?
I've been surrounded by libraries my whole childhood. I loved my elementary school librarian, Mrs. Larsen. In high school, I volunteered in my high school library, and worked as a library aide in college. My interest in becoming a youth librarian hit me when I was working as an assistant preschool teacher for Head Start in Rock Island. A librarian would come once a month to read to the kids. During his visit, I saw how engaging and fun he was with the children and he picked such great picture books to read to them. I told myself, "I want to do that!" I became a youth librarian because I want to build that love of libraries and learning for other children - just like the librarians that I grew up with instilled in me.
What is your favorite part of being a librarian?
My favorite part of being a librarian is seeing the reactions of kids when they find the book (or books) they've wanted to read. Seeing their smiles and excitement when they spot the book they want and checking it out makes me happy.
How do you encourage children to start their reading journey?
​I ask kids to tell me what they're interested in reading about - and then gather books to foster their curiosity. I tell parents to just let their kids explore the library! For preschoolers - let them browse the picture book bins and they can select what they want. For older kids - let them explore the Children's Fiction/Nonfiction sections and the Children's Graphic Novels of the library.
If you could jump into any fictional book world, what would it be?
I would love to enter the world of Ready Player One by Ernest Cline. All those pop culture references from the 1980s that are sprinkled inside the novel brought back such nostalgia for me!
What is your favorite programming your library puts on?
Storytime! It's engaging families and children with reading and showing them how fun and impactful it can be. Whether you're reading a story about ABCS or a silly story; Storytime teaches children that there's power in a story. During Storytimes, children are learning that stories carry information and meaning. We all learn from stories, and I think Storytime demonstrates that. Also - it's fun!
Maddie Bassman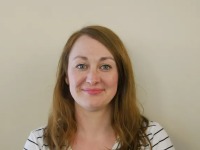 How did you become a librarian?
I grew up in my public library spending every morning there during the summers, being in library plays, going to all the programs and attempting to read every book. In college at the University of Iowa I fell in love with the Iowa City Public Library, checking out graphic novels and DVDs. I didn't realize it was a career choice until I began volunteering at the Central Library. I used my educational stipend from my AmeriCorps service to attend the University of Iowa's School of Library and Information Science, and enjoyed connecting with professors and classmates there while working at the Iowa City Public Library.
What is your favorite part of being a librarian?
My favorite part of being a librarian is the pure joy in children I get to experience on a daily basis. Their energy is so beautiful and I love meeting new friends and telling them about all the amazing things the library has to offer. I love being able to connect with them around books and stories and share a love of reading with all ages.
What is your favorite book of all time?
This is so hard to choose… I love to read mysteries in my free time. If I had to choose - the Magpie Murders by Antony Horowitz. It's just such a perfect mix - clever and suspenseful enough but tongue in cheek as well. A librarian At DMPL Carrie Anderson told me I'd love it and I waited forever to read it and it feels like it was written for me.
What makes your local library a great resource for your community?
The library offers so much more than just books! We have wonderful staff there to help you find the right materials, amazing, thoughtful programs and displays, collaborations with community groups, and a focus on early literacy for our youngest patrons - so important to practice the 5 Simple Steps (Read, Write, Song, Plat, Talk) with little ones.
How can people find ways to connect with their local library?
Head online - libraries have great websites and online catalogs to find materials and these websites have the multitude of offerings your local library has to offer - ebooks, audiobook, cake pans, seed libraries - I'm always learning more about all the amazing things libraries in Iowa have to offer and get inspiration and ideas through learning about some of these cool services you would never know existed!