Touring Iowa's Superlatives
Iowa is home to countless "largest" (and sometimes smallest) items - whether that be the biggest wooden nickel in the world or the state's largest frying pan. Take a tour is the best of Iowa's superlatives.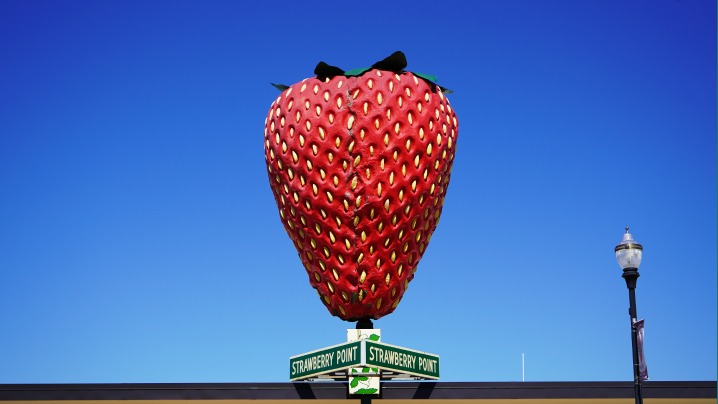 World's Largest Strawberry, Strawberry Point
The World's Largest Strawberry is located in Strawberry Point, Iowa. This 15-foot tall fiberglass sculpture is located in front of City Hall and was dedicated in the late 1960s. In 2003, it became rivaled with a building painted to look like a strawberry in North Carolina, built by a business owner named Lee Berry. However, Strawberry Point still claims to hold the title, as the building in North Carolina is not shaped like a strawberry but only painted like one. 

World's Largest Wooden Nickel, Iowa City
The World's Largest Wooden Nickel can be found in Iowa City on the east side of Dubuque Street. This 16-foot wooden sculpture was built in 2006 by Jim Glasgow as a political protest. According to the Iowa City Press Citizen, in the early 2000s Johnson County wanted to pave Newport Road from Highway 1 to Prairie du Chien Road. This would be a nearly $7 million project that risked destroying some of the natural beauty surrounding the existing road. The wooden nickel was erected and the community protests did the job, preventing the road construction. Prior to Glasgow's project, the title of "World's Largest Wooden Nickel" belonged to a 13-foot nickel in the Historical Wooden Nickel Museum in San Antonio, Texas.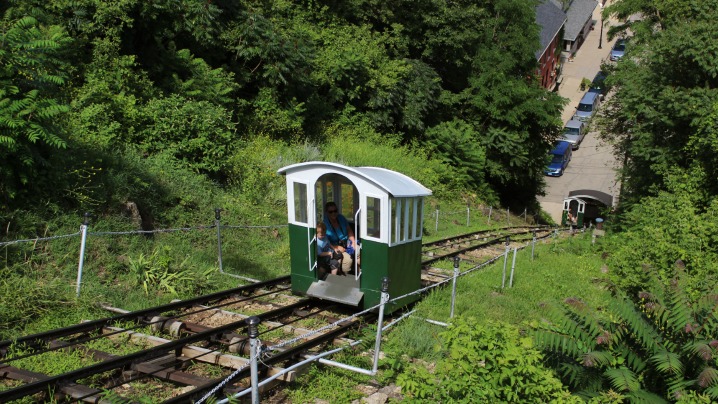 World's Shortest and Steepest Railway, Dubuque 
The Fenelon Place Elevator Company in Dubuque, Iowa, holds the title of World's Shortest and Steepest Railway. It is 296 feet in length, and elevates passengers 189 feet from Fourth Street up to Fenelon Place. It was conceived in 1882 by Mr. J. K. Graves, a former mayor and state senator who was also a promoter of mines and a banker. He lived at the top of the Bluffs and worked at the bottom. The commute by horse and wagon was too long for him to return home for lunch and take a nap before he had to return to work. He hired John Bell, a local engineer, to construct the elevator, and it became a reality in July of 1882. The elevator has had a somewhat rocky history, with two different fires that destroyed the cables and the cars. However, it is up and running for riders today. 

Iowa's Largest Frying Pan, Brandon
While not the largest in the world, the frying pan in Brandon, Iowa, is still an impressive nine feet wide and 14 feet long, weighing in at 1,500 pounds. The frying pan was built to promote Brandon's recurring "Cowboy Breakfast" fundraisers and in hopes of bringing in tourists. According to signs near the roadside attraction, the pan can cook 528 eggs, 88 pounds of bacon, or 440 hamburgers. The town of Brandon intended to build the world's largest frying pan, but upon construction they found the pan they built was 3 inches shorter than a frying pan found in Washington. 

World's Largest Concrete Gnome, Ames
Elwood, the World's Largest Concrete Garden Gnome, can be found in Reiman Gardens in Ames, Iowa. Elwood stands 15 feet tall and cost about $8,000 to build. At the time he was constructed, he beat out the former champion garden gnome, Gnome Chomsky, who can be found in a mini golf course in New York. However, Elwood was quickly beaten himself by an 18-foot tall gnome discovered in Poland. Elwood was too far along in the design process to make him any taller, and so his name was amended to the World's Largest Concrete Garden Gnome. 

World's Largest Pickleball Paddle, West Des Moines
Smash Park in West Des Moines, Iowa, is home to the World's Largest Pickleball Paddle. "Big Blue," as it's called by employees and park guests, weighs 150 pounds and is 10 times larger than a traditional pickleball paddle at 13.6 feet tall and 6.9 feet wide. Smash Park has gotten the giant paddle certified with the Guiness Book of World Records to ensure they hold the title. 
But owning the World's Largest Pickleball Paddle isn't the only point of bragging rights for Smash Park - they also claim to have Iowa's largest outdoor patio. 

World's Largest Garden Trowel, Des Moines
The World's Largest Garden Trowel can be found just west of the Meredith Corporation (Better Homes and Gardens magazine publishers) office building in Des Moines, Iowa.  Claes Oldenburg and Coosje van Bruggen built the 2,300 pound trowel in 2001, and it stands at a whopping 23 feet tall. 

World's Largest Swedish Coffee Pot, Stanton
Stanton, Iowa, is the birthplace of Folgers commercial actress Virginia Christine. Stanton commemorated her, as well as their Scandinavian roots, by painting its water tower into the World's Largest Swedish Coffee Pot. In 2013, the water tower was taken down due to maintenance expenses. But it was erected at ground level, so it is still viewable in the town of Stanton. It was replaced by a giant Swedish coffee cup. According to the nearby signage, a coffee pot this size would hold about 50,000 gallons, or 800,000 cups of coffee. It stands at 35 feet tall and 20 feet wide, with a 10-foot spout and a 15-foot handle. 

World's Largest Bull, Audubon
Albert, the World's Largest Bull, can be found guarding the streets of Audubon. Built in 1964, this giant hereford bull is 28 feet tall and weighs 40 tons. If you press a button in a kiosk nearby, Albert will tell you all about his 20,000 visitors a year, and the times he was featured in the movie Beethoven's 3rd and in  Jeopardy. For about 50 years, Albert sported bright blue eyes. However, herefords don't have blue eyes naturally, and enough farmers complained that his eyes were repainted brown in 2017. 

World's Smallest Church, Festina
When researching for this project, it became clear that many states claim to have the "world's smallest" church. Iowa is no different. Our tiny church, St. Anthony of Padua Chapel, is located in Festina, Iowa. It is 12 feet by 16 feet and seats eight people. According to the sign found outside of the Church, the mother of Johann Gaertner promised God that she would build Him a chapel if her son returned safely from war. Her son returned unharmed, and she upheld her end of the bargain. She built the church in 1885 out of locally quarried stone. 

World's Largest Popcorn Ball, Sac City
Tourists will be directed to Sac City by billboards along the highway advertising the World's Largest Popcorn Ball. This popcorn ball weighs in at around 9,370 pounds and has a circumference of about 24 feet. Sac City's Cedar Creek Popcorn company began making huge popcorn balls for the county fair in 1995. They would fill the ball with dynamite, and it would shower the grandstand audience with popcorn when it exploded. This first "World's Largest Popcorn Ball" was 2,225 pounds. 
A few months later, however, that record was beaten by the Boy Scouts. The Cedar Creek Popcorn company set out again to make another giant popcorn ball that was big enough to beat the Boy Scouts. They created another popcorn ball that weighed in at 3,100 pounds. 
In 2009, they were dismayed to hear that their record had been beaten yet again. A group of Sac City volunteers came together to make a 5,000-pound popcorn ball. But even 5,000 pounds was not good enough, as that record was beaten again in 2016. The 4th and final recreation of this giant popcorn ball leads us to the ball that Sac City has on display today. 

World's Largest Man Made Grotto 
Much like the World's Smallest Church, the Grotto of the Redemption was built out of a promise to a higher power. A student seminary named Paul Dobberstein fell critically ill with pneumonia. He prayed to Mary, mother of God, promising to build a shrine in her honor if he lived through the illness. He survived, and upon graduating seminary school, he traveled to West Bend, Iowa in 1898 to begin his priesthood. He collected rocks, gems and precious stones for over a decade, and the Grotto that we know and love today began to take shape in 1912. It took 42 to 52 years to build and is a conglomeration of nine grottos. There are over 250 types of rock found in the grotto, and it is estimated to be made up of at least $4,308,000 of precious stones.