Iowa's Unique Gravestones and Burials
Graves, headstones and mausoleums come in all shapes and sizes, and Iowa is home to many unique ones, from haunted angels to pyramids. 

Black Angel - Oakland Cemetery, Iowa City 
The black angel statue found in Oakland Cemetery in Iowa City is the final resting place of the Feldevert family. Standing at nine feet tall atop a four foot pedestal, oxidized from bronze to black over years of weathering, this daunting statue has easily earned its unsettling reputation. Many rumors follow this statue. Some people say that if you kiss or touch the angel, you will drop dead unless a virgin. Others say that the color turns a shade darker every year as a reminder of those that it has killed. It draws crowds on Halloween, because touching the angel at midnight on October 31st means that you will die in seven years. It is not known if any of these rumors are true, but it is known that security keeps a very close eye on this statue because of past vandalism, so best to keep your hands off either way!

Becky and Jenny, Civil War Mules - Oskaloosa 
Located on the Nelson Pioneer Farm and Museum in Oskaloosa are the graves of Becky and Jenny. Becky and Jenny were civil war mules, purchased by Daniel Nelson in 1865. They carried artillery guns and pulled supply wagons for the Union Army. Becky died in 1888 at 34 years of age, and Jennie died in 1897 at the age of 42, after decades of working on the Nelson farm. 

"The Great Pyramids of Avery" - Hickory Grove Cemetery, Avery 
These tombs in the back of Hickory Grove Cemetery near Avery, Iowa were built in 1939 by Axel Peterson, who was a fan and historian of Egyptian history. They were constructed as small scale, dimension accurate, versions of the pyramids of Giza. The tallest is about 14 feet tall. His intention was to be laid to rest here, along with a friend. Unfortunately, his wishes were not respected, and Axel was buried in another town. The tombs lay empty to this day, as a strange and unexpected roadside attraction. 

"Mom's Christmas Cookies" Headstone - Cascade Protestant Cemetery, Cascade
When the late Maxine Menster passed away in 1994, her family wanted to make sure that she was remembered in a special way. Her children recall her astonishing spread of cookies come holiday season, that would take over every surface in the kitchen, and so they agreed that the most fitting way to uphold her memory was to engrave her cookie recipe onto the back of her headstone. The Cascade Protestant Cemetery is open year round, and Maxine's headstone can be found near the back. 
The recipe reads as follows:
Mom's Christmas Cookies
Cream: 1 cup sugar
½ cup oleo
Add: 2 beaten eggs
1 tsp vanilla
Add: 3 cups flour
3 tsp baking powder
1 tsp salt
Add the flour alternately with 1 cup cream. Chill and roll out with flour. Bake at 350° until golden on the bottom when you lift one up to check. Cool, then frost.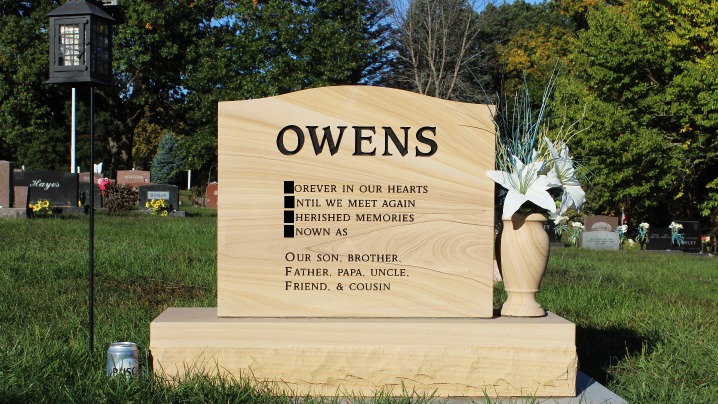 Owens Poem - Warren Powers Cemetery, Polk County
This headstone in Warren-Powers Cemetery in Polk County has turned some heads and even made national news. The headstone reads: "Forever in our hearts / Until we meet again / Cherished memories / Known as / Our brother, / Father, papa, uncle, / Friend, and cousin." At first glance, this is a lovely poem. However, the spacing of this poem has sparked outrage, as the first letter of each line spells out a hidden profanity. 

"Devil's Chair" - Union Cemetery, Guthrie Center
In the nineteenth century, graveyards often included carved chairs for the comfort of mourners. The purpose of these chairs fell out of fashion over time, and urban legends about them began to spread. Generally, the stories suggest that a person brave enough to sit in the chair will be rewarded for their courage or punished for their audacity.
The stories behind the Devil's Chair in Union Cemetery in Guthrie Center, unfortunately, are the latter. The chair is situated between two graves, but is unmarked and does not seem to belong to either. Local legend claims that anyone who sits in it will have bad luck. 

Obituary Window Headstone - New Haven Cemetery, Washington
While many people choose a simple epitaph for the headstone of a loved one, the family of Alethea Burroughs decided to include her entire obituary. This grave, found in New Haven Cemetery in Washington, has a door on the side that flips up to reveal Alethea's original 1897 obituary. There is very little information that can be found about headstones similar to this one, so it can be assumed that this one is relatively unique. 

City Receiving Vault - Woodland Cemetery, Des Moines
Although this is not an active grave, the history behind it was too good not to share. The City Receiving Vault in Woodland Cemetery was added in 1888, to store the bodies of those that died in the winter months, when the ground was too hard to dig. They stayed there, unburied, until the spring. It was in use until about 1910. 

Tree Stump Headstones - Woodland Cemetery, Des Moines
Tree stump-shaped markers can be found all over America, but the photos shown are of headstones found in Woodland Cemetery in Des Moines. Most date between the 1800's and 1920's, when large obelisks and mausoleums began to drop in popularity in the funerary art world. At the time, customs around death began to focus less on the concept of death itself, and more on the life of the deceased and the people that they left behind. These tree-shaped graves served as a symbol of eternity and humanity. Each stone is different, based on the life of the person laid to rest underneath them.
They generally stand anywhere between 3 to 12 feet, the taller ones often reserved for people that died later in life, while the shorter ones represent infants or children. If the stone was cut flat at the top, it is said to have represented an expected death, like that of illness or old age, while a jagged cut represents an unexpected death. Many of these stones are engraved with ivy, flowers and other plants, and oftentimes a fraternity or society symbol is included below the name of the deceased. The stones were frequently altered with added or removed branches to represent the death of other loved ones. This style of headstone was mostly discontinued in the 20's due to increased cost of stone. 

Hubbell Mausoleum - Woodland Cemetery, Des Moines
This mausoleum for the Hubbell family, located right at the entrance of the Woodland Cemetery in Des Moines, is distinct due to the casket elevator  on the inside that can raise and lower the inhabitants for visits and burials. Frederick Hubbell, the patriarch of the Hubbell family, began his real estate empire in Des Moines in the 1860's and 1870's. The Hubbell Mansion is now known as Terrace Hill, or the Governor's Mansion that is inhabited by Governor Kim Reynolds and her family. Frederick's wife, Frances, was the first to be laid to rest in the Hubbell Mausoleum in 1924, closely followed by Frederick himself in 1930.