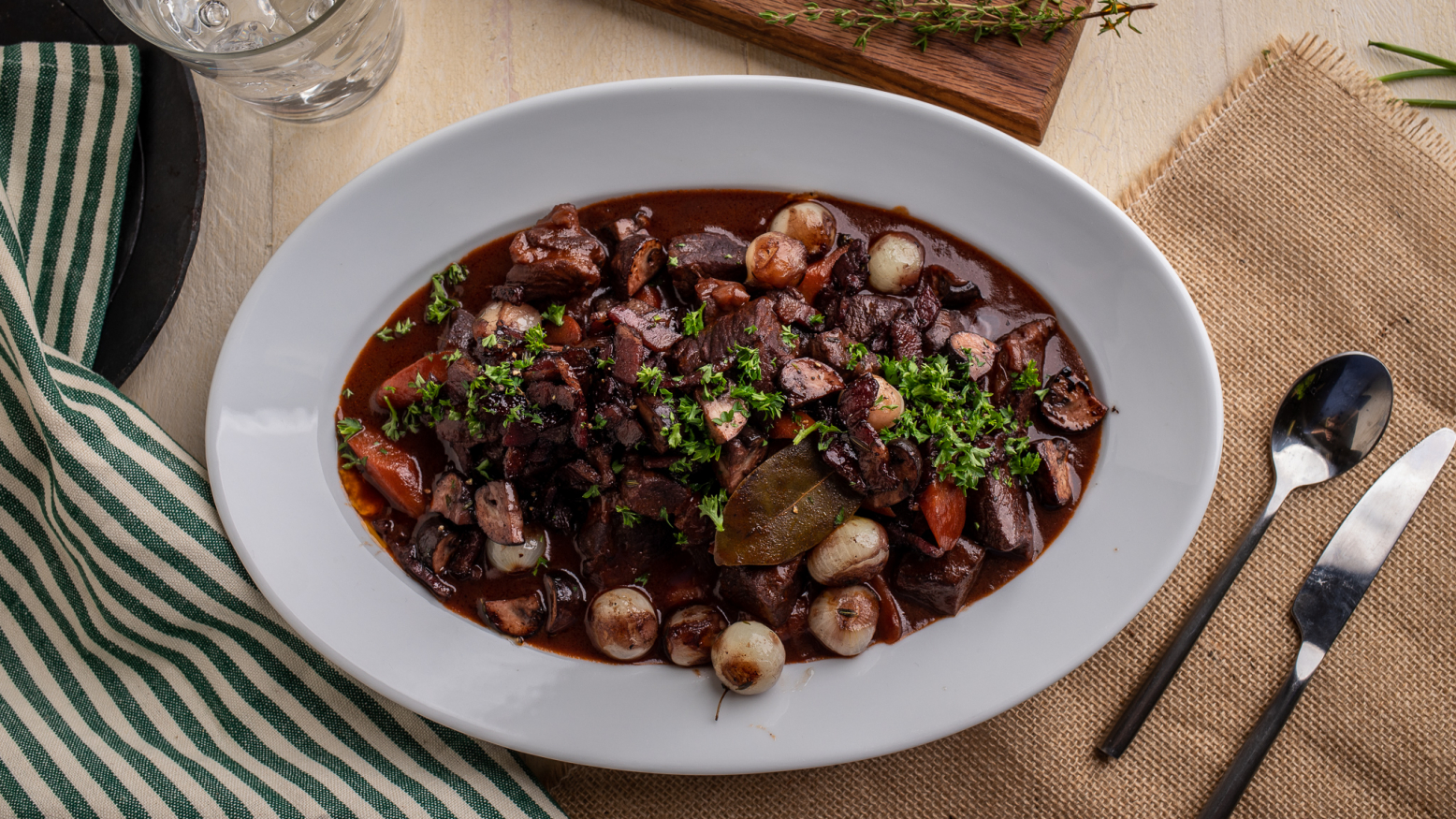 Chef David Baruthio's spin of the Julia Child's classic main course.
Ingredients
2 pounds lean stew beef (cubed)
2 Tbsp. olive oil
salt and pepper
1 shallot
1 bay leaf
1 whole clove
sprigs of fresh thyme
3 whole carrots
2 cloves garlic (minced)
1/4 cup tomato paste
3 Tbsp. all purpose flour
2 cups red wine (merlot)
2 cups unsalted beef stock
2 slices of bacon
1 cup sliced mushrooms
2 cups pearl onions
1 additional cup red wine
2 sprigs fresh thyme
parsley
Directions
Pour olive oil in pan. Then add beef cubes to sear on all sides. Add salt & pepper as searing. Peel and chop shallot. Add chopped shallot to pan. Add one bay leaf, 1 whole clove, 1 whole sprig of fresh thyme, and let simmer. Chop carrots into larger slices and add to mixture. Add garlic. Let simmer until beef cooked all the way through.
Add tomato paste and stir in. Sprinkle in flour. Stir.
Add red wine to mixture and stir. Add beef stock to cover meat in pan. Cover and let simmer on low for an hour or so -until sauce thickens.
When done, turn off heat, and let sit while makegarnish. Slice bacon and put in new fry pan. Chop mushrooms and add. Then add thyme. Stir and cook until bacon done. Then deglaze pan with red wine and 1/2 cup water.
Put finished beef burgundy mixture into serving bowl (remove bay leaf and thyme sprigs), top with all of garnish, and some parsley.
Serve with mashed potatoes and enjoy!
Chef David Baruthio's spin of the Julia Child's classic main course.