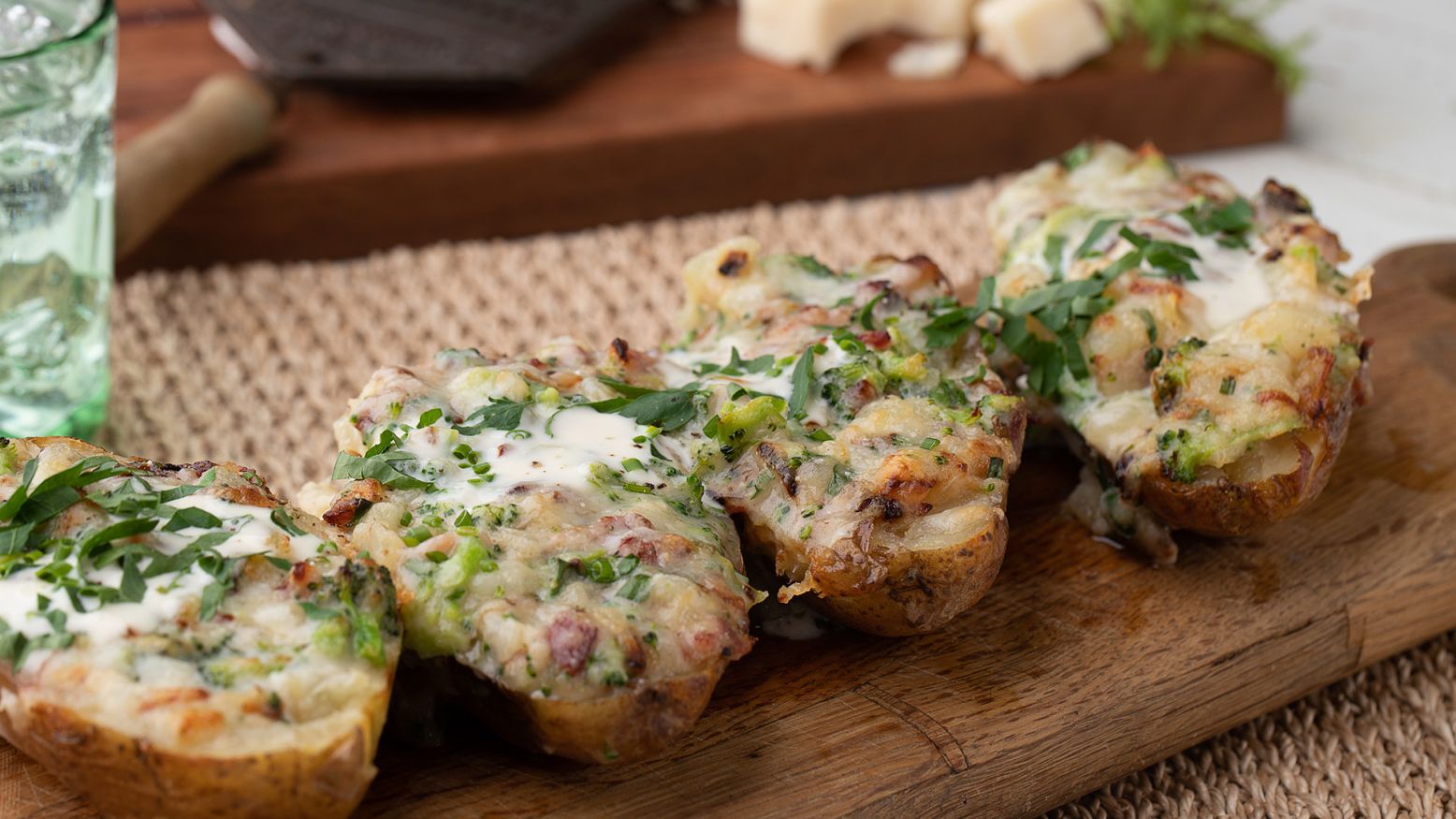 A delicious twice-baked potato recipe from chef David Baruthio.
Ingredients
4 russet potatoes
1/2 small head broccoli
4 slices bacon
1/2 yellow onion, chopped
2 Tbsp. creme fraiche and sour cream
1 Tbsp. butter
8 oz. cheddar cheese, shredded.
Fresh chopped parsley
fresh chives or spring onion
Directions
Preheat oven to 450 degrees.
Scrub potatoes under running water, and dry them. Rub the skin of each with oil, and add salt. Pierce the skin three or four times with a fork, and wrap in aluminum foil.
Place the potatoes in the oven and bake for 45 minutes to an hour, depending on the size of the potato, until they offer no resistance when a knife is inserted in the center.
Heat a small pot of water to a simmer. Blanch broccoli for a one minute and remove from water, place in an ice bath to stop broccoli from cooking.
Finely chop bacon, and sautee with chopped onions until cooked through and the onions are carmelized.
Remove the potatoes from the oven, and slice them down the middle. Once potatoes are cool enough to touch, scoop the potatoes to remove as much of the insides as posslbe. Transfer to a bowl. Add bacon and onions, shredded cheddar cheese, chopped broccoli, creme friache, butter, parsley and chives. Stir everything together until combined.
Scoop potato mixture back into the potato skins. Put in potatoes into a pan and top with more shredded cheese. bake at 450 for 10-12minutes until cheese is melted and browned. Top with herbs and more creme france. Serve and enjoy.
A delicious twice-baked potato recipe from chef David Baruthio.