Woman Suffrage Pennant
A felt pennant from the Woman Suffrage Party stating "Votes for Women." c. 1910.
Artifact: Woman Suffrage Felt Pennant
Date: 1910s
Museum Location: State Historical Society of Iowa, Des Moines, IA.
Press and zoom in the image below to see details of the pennant.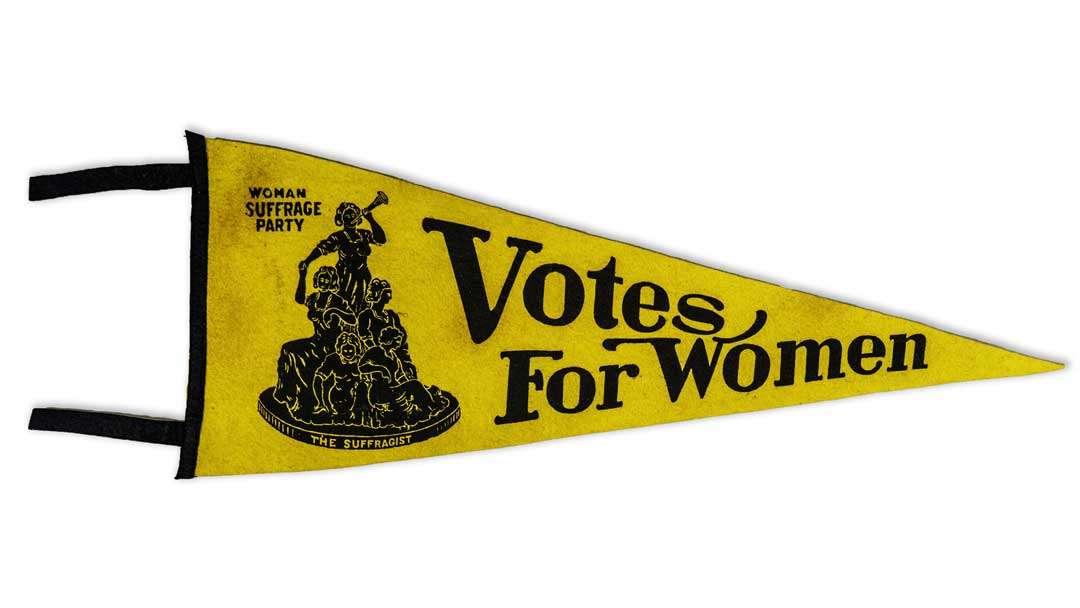 Transcript
Leo Landis, State Curator, State Historical Society of Iowa: Our next artifact is a cloth pennant. It says "Votes for Women" and it's yellow fabric. This is possibly a wool felt or cotton fabric. It could have been mounted on a staff, stapled on to a staff to be waved as a flag. It could have been tacked to a wall in a hall, by a hall I don't mean like a home's hall, but in a meeting space to show that it was a place that supported women's suffrage.
And we know that this one is dating after 1911, because of the little image that's on it that says "The suffragists and the woman's suffrage party." That was a statue that was created by a woman named Ella Buchanan from Kansas and it was a statue that was created as a small statue out of plaster, about 12 to 14 inches tall, but it was something that was featured in Iowa newspapers as well. She's surrounded by three oppressed women and she is trumpeting, you know for the right of women to vote, and that will help uplift those women who were down on their knees. The pennant, that triangular shape is one that's common. It goes back to the 1800s, and women in support of suffrage and wanting suffrage adapted it for their own uses to make a supportive pennant for women suffrage.
Artifact provided courtesy of the State Historical Society of Iowa